The Coalition for Advancing Research Assessment (CoARA) launches the second round in the 2023 Call for Working Group Proposals. The timeline for this second round has been published.
As a result of the launch of the Call for Working Groups on 28 March 2023, first Working Groups have been appointed in an initial round and are now in the process of commencing operation [Formation of first CoARA Working Groups and National Chapters]. Following this successful first cycle, CoARA progresses with a second round calling for proposals for Working Groups with the intent to take action in the need to reform research assessment. Operating as 'communities of practice' under the principles of mutual learning and collaboration, the developed outputs of these Working Groups will support CoARA members in their implementation of the commitments agreed upon when joining the coalition.
Timeline 
Deadlines for the submission of proposals are approaching fast, with the submission of an Expression of Interest on the 2nd of October 2023 (CEST midnight), followed by a Brokerage Event (16th October 2023) where proposers have the opportunity to present their ideas for Working Groups to the larger CoARA community and find proposal partners. The full proposal has to be submitted by the 9th of November 2023 (CEST midnight). On the website you will find information on the 2023 call ; documentation and forms ; an overview of the first appointed working groups.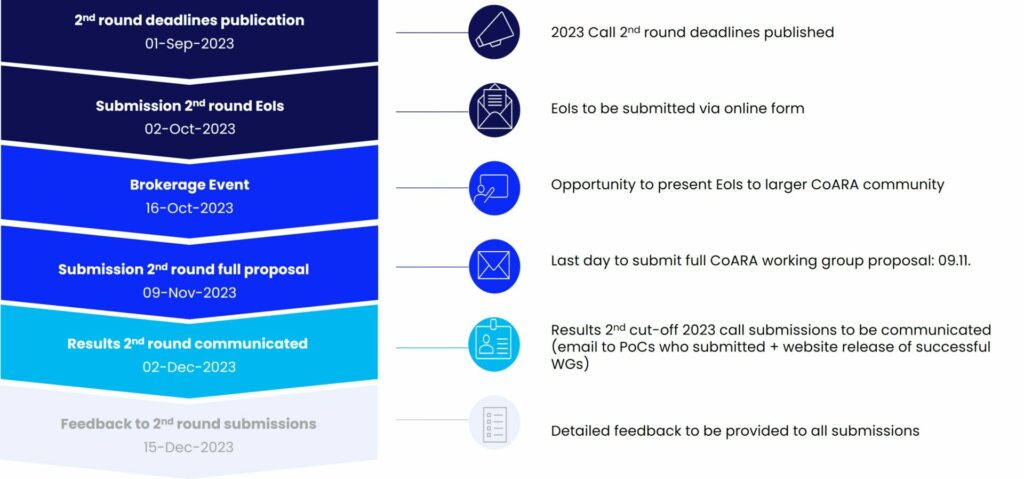 Join the coalition! Only CoARA members can participate in this 2023 call
Organisations interested in joining CoARA can find more information on the website. To propose or join a Working Group it is a requirement to have CoARA member status. In case you are signatory and would like to progress to member status, please contact the CoARA secretariat (workinggroupcall@coara.eu).